Recently I was asked to be a safety and security tester for Tesco Compare and they sent me a Garmin Nuvi 50 to review. As I mentioned in this post we put my car back on the road when we moved, as Sam now needs to commute to work and having a car makes going out as a family much easier than attempting the train! I used to have a TomTom, but after years of use when we went to use it when we moved it didn't work so it got binned!
The Nuvi 50 has a 5 inch wide-screen display, with a clear definition. It's a touch screen and the keyboard can be set to QWERTY which is much easier to use than the tomtom's a-z type display. My husband Sam has huge fingers but can easily input the destination, and use all the other touch screen features with ease. We took a trip this week into the countryside, and used the 'points of interest' feature to search for somewhere to visit (Parham House, which was lovely!) and as a test I covered the screen up, to see if Sam could follow the directions verbally, and low and behold he managed fine! (I think because he can't argue with a satnav like he can with me!) Sound wise it has a surprisingly high volume, and can be heard over open windows and a fairly loud stereo (much to my annoyance a new addition to the car is speakers in the back!) You can choose for your voice to dictate road names, or to just give left/right and distance directions. Listening to some of the pronunciations is a bit of a giggle, so I'd recommend that option!
It warns you of speed cameras (and has software that updates this info all the time so you're not caught out!) and you can set it to avoid motorways and toll charges etc, along with ability to navigate to the nearest petrol station/hospital etc (hopefully we'll never need to use the latter function but good for peace of mind!) We tested it without being plugged in to the charger too, to see how long it lasts without power and it ran for just over 2 hours on its battery (in the rare event you've left the cable at home or your cigarette lighter stops working!) You can also unclip the device from the holder WAY easily than any other sat nav I've encountered, but when it is in place it's held firmly and didn't pop out when going over speed bumps or mounting kerbs (all in the name of testing, obviously!) It's lightweight too, so I didn't notice it when I put in in my handbag when we parked the car.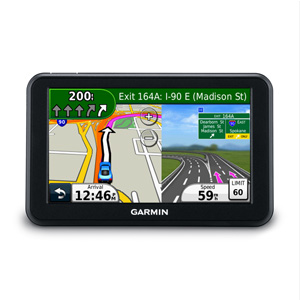 The best feature in my opinion is the split screen 'lane assist' where if you are coming up to a particularly tricky junction or lane change, the screen will split, with the normal map showing on one side and a detailed display of the lanes ahead, clearly marking which one you need (I can think of a particular roundabout in Manchester that this function would be really helpful for!) so you don't end up heading in the wrong direction! Oh, and Sam told me to make sure I mention that you can change the type of car that shows on the display, and change the voices, which are obviously the most important parts! All the maps can be updated easily by connecting the Nuvi 50 to your computer and using the software downloaded from their website to choose what updates to include (ie European country maps etc)
If you're looking for a satnav that is voice operated, plays music and can be used when you're on foot walking around town then this isn't for you, but for an easy to use device that gets you where you want to be with a big display that is easy to read in bright sunlight and at night time then I'd definitely recommend this one!